Tips, Tools & Techniques eNote #3

Push Stick Versus Push Block, and the Winner is…
One of the basic cuts on a table saw is a rip cut, that is, cutting a board to width. But you need a way to push the board through the blade. Typically, that's using a push stick. But is that the best way? Let's take a look.
---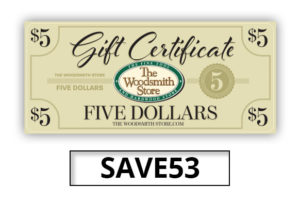 Congratulations, you get another $5 ONLINE COUPON!
Just enter code SAVE53 at checkout.
---
COUPON DETAILS
Be sure to check your email in about a week for your next eNote tip, plus another $5 coupon.
Offer includes $25 worth of online coupons delivered over 5 weeks. eNotes coupons (SAVE51), (SAVE52) and (SAVE53) can be combined together at checkout for a $15 discount on a purchase of $60 or more. Coupons cannot be used on Sawstop, or combined with any SawStop products in checkout. Not valid for gift cards. Coupon is only valid online and cannot be redeemed at the local store in Clive, Iowa.