Tips, Tools & Techniques eNotes

Thanks for signing up to The Woodsmith Store Tips, Tools and Techniques eNotes.
Here's your first tip, plus your first $5 online coupon!
Get Accurate Crosscuts with a Shop-Made Miter Gauge Fence!
Whenever you make a crosscut on the table saw, you want to use the miter gauge to guide the workpiece. And if the workpiece is too long, it helps to add a wooden auxiliary fence to help keep the workpiece from twisting. But there's two things you can add to the fence to make it even more effective. Let's take a look.
---
Congratulations!
Your first coupon code is ready for use.
Save $5 off any $20 Online Purchase!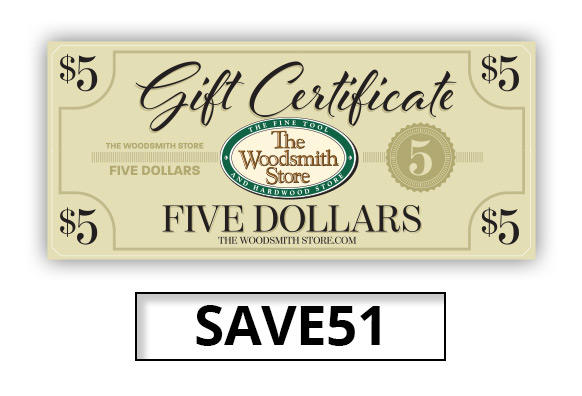 Just Enter Coupon Code SAVE51 at Checkout
Note: You will need to create a NEW account to use the coupon, or login to an EXISTING account.
Click here to create an account
---
COUPON DETAILS
Be sure to check your email in about a week for your next eNote tip, plus another $5 coupon.
Offer includes $25 worth of online coupons delivered over 5 weeks. eNote coupon (SAVE51) can be entered at checkout for a $5 discount on a purchase of $20 or more. Coupons cannot be used on Sawstop, or combined with any SawStop products in checkout. Not valid for gift cards. Coupon is only valid online and cannot be redeemed at the local store in Clive, Iowa.